As Saturday dawned in Celebration, the radar showed bands of rain from Hurricane Dennis that threatened to make the day a washout. My husband and I had booked a Segway tour at Epcot in the morning, and the Front Porch Picnic (for Celebration intranet users) was scheduled for 5 p.m. Even though the sky looked only mildly threatening, I was worried that the storm clouds might take over at any time.
The most noticable effect of Dennis was stronger than normal wind. In the front, my new flag whipped wildly on its pole. In the back, my tree's branches were swaying and my pot of flowers had tipped over. But it didn't look like it had rained overnight, despite the weather man's dire predictions, and I even suspected that the sun might peek through at some point in the morning.
Still, we wanted to be prepared just in case a monsoon came. We packed two umbrellas and rain ponchos in our backpack, plus a large plastic bag to keep the backpack itself dry, if necessary. We wore shorts so we wouldn't have to deal with soaked jeans plastered to our legs and sandals so we wouldn't get stuck in squishy tennis shows.
We left for Epcot early, since the tour begins at 8:15 a.m. You spend one hour learning to ride a Segway, and then you spend the next hour touring World Showcase before it opens to the public. The parking booths don't open until 8 a.m., so we sat in line with the car idling, waiting to enter the parking lot. I have a AAA Diamond Parking Pass, so once we got in, I knew I would get a nice, convenient spot.
We followed the green line to the AAA parking area and pulled into a space right by the walkway. Then we hiked off to figure out how we'd get into the park, since it doesn't technically open until 9 a.m. We found a cast member with a clipboard listing all the people coming in for the tour. He let us through and we headed off to Guest Services, breathing a sigh of relief because the rain hadn't come...yet.
Soon, the entire tour group had gathered, and we were herded to the training room in Innoventions. The training session consists of a short video and operation instructions, followed by actually climbing on the training Segways and veering around an obstacle course of cones. We also covered how to dismount and bring the Segway over a curb, how to duck under a low tree branch while in motion, and how to go up and down a ramp.
I've been on a Segway a few times before, although it's been a while. Disney Cruise Line used to rent Segways on their ships and their island, Castaway Cay. They don't do that anymore, but my husband and I managed to try them several times before it was discontinued. The area to ride in was very small; onboard, you were confined to part of the ship's atrium, and on Castaway Cay there was a "Segway Pen" marked off by logs.
Segways aren't too diffcult to ride; the only thing that takes some getting used to is turning. Instinctively, I used to want to turn by using my body weight and shifting the handles like a bike's handlebar. Unfortunately, that doesn't work! On a Segway you turn both ways with your left hand. You rotate the handle knob one way to turn left and the other to turn right. To go forward, you shift your weight forward; to stop, you simply shift back. Segways can be set at three different speed levels; for safety, the practice and touring Segways are set at the slowest level.
The training room in Epcot was small, but I was looking forward to riding in the wide, open space of World Showcase. Alas, it was not to be. As we perfected our zig zags and 360 degree turns, the weather outside turned positively ugly. The sky went black, the wind whipped into a frenzy, and the driving rain poured down in buckets.
Of course, in Florida that doesn't necessarily mean that the whole day is shot. Even with the outer effects of a hurricane, a band of rain can pass over within a few minutes and the sky can clear out again. We left the training room and selected our touring Segways, which we rode up and down the hallway. One of the tour guides checked with Guest Services and reported that the radar looked bad. The second part of the tour was officially cancelled, and we were promised a half-price refund. The guides also offered to let us ride around the hall for a while.
Before his ride, my husband hurried over to the Land pavillion to get a Fast Pass for Soarin'. That's my favorite ride at Epcot; even though it's basically just an Imax movie with motion and piped-in smells, I can never get enough of it. If you ever ride it, look at the top of the hill during the skiing sequence and you'll see a guy jump/fall off. Also, watch for the horseback riders below you in the mountains. Personally, my favorite part (besides Disneyland at the end) is the citrus grove. I love the music in that part, and the scent of oranges reminds me of the long-gone Horizons pavillion (anyone remember that?).
As we zoomed back and forth inside Innoventions, the sky suddenly brightened up and the rain moved out as though it had never existed. The only evidence of the sudden, severe downpour was the wet pavement and puddles. What little crowd there had been had scattered; we saw a few guests here and there, but most had been scared off to shelter.
Since the threat seemed to be over, the instructors let us bring the Segways outside. We zoomed around on a brick path between Innoventions and Journey Into Imagination that reminded me of the Belgium Blocks sequence in Test Track. It was great fun zipping around outdoors, even if we didn't make it to World Showcase. They let us ride for a fairly long time, considering that we were getting a partial refund. Finally the "tour" was over, so we brought our Segways back in and received a special Segway Tour pin. Then it was off to Soarin'.
There weren't many people in Epcot, but of all those who were, I suspect that 80 percent of them were heading to the same place as us. When we arrived, the line hadn't swelled too badly yet; it was almost walk-on, even for those without Fast Passes. We trooped down to the loading area, were sent to our assigned row, and prepared for our "flight" over California.
I don't tend to get motion sick, but I hadn't eaten any breakfast or drank anything at all. It was already nearly 11 a.m., so my body was feeling rebellious due to the deprivation. I happened to look down during a high-motion sequence, and suddenly my equilibrium short-circuited. I felt an awful sense of vertigo, and there wasn't much I could do since I was strapped in a chair and elevated up in front of a giant movie screen. I closed my eyes, but it didn't help. I groped for a drink of water, but our backpack was stashed under my husband's seat, and he couldn't reach it too easily. Finally, I focused on a stationary object (my sandals, which I was holding so they wouldn't slip off my dangling feet). The feeling disappeared; my brain must have hit the "reset" button, as I was suddenly fine again.
We grabbed another Fast Pass, since the return time was not much more than half an hour away. Meanwhile, we hopped into the standby line, hoping that it was still short. Alas, it had swelled to over half an hour. We figured we'd wait anyway, and to kill time I called 407-WDW-DINE to make a priority seating at the Garden Grill, one flight up, for when we were done riding. We did our standby ride, then zipped through again with our Fastpass. Amazing...I couldn't believe we had ridden Soarin' three times in a row in peak season July!
We had a nice lunch at the restaurant. They serve a meal for $19.99, with a choice of several entrees (I chose steak and mashed potatoes, while my husband opted for seafood pasta). Your drink is also included, as well as break sticks with three dips (flavored oil, hummus, and melted cheese). For dessert, you receive chocolate fondue with yummy dipping items like chocolate chip cookies, gummi worms, pound cake, brownies, marshmallows, strawberries, and pineapple. It's also a character meal, so Mickey, Pluto, Chip, and Dale all stopped by for a visit.
If I was bringing children to Disney World, I'd definitely do at least one character meal. It's so much less stressful than waiting in lines for photos with the characters. Instead, they come to you, and you have a nice, relaxing interaction. We had our camera with us, since we'd snapped some shots of the Segways, so we took some pictures of Mickey and pals.
While eating, we looked through an Epcot map, and I noticed that Figment was supposed to be out for photos. Since he's one of my all-time favorite Disney characters, albeit a lesser known one, I had to go seek him out. I have an old picture of me with him and Dreamfinder; it was taken back in the good old days when "Journey Into Imagination" was still one of the best rides at Disney World. Then they totally ruined it, and there was such an outcry that they shut down the travesty and reworked it into something a little better, although it's still a shell of its former self. At least Figment is back in the reworking; he had been removed entirely from the ruined version.
We found him hanging out near the entrance to "Honey, I Shrunk the Audience." When he used to be out with Dreamfinder, he was the size of a small dog and fit in Dreamfinder's arms. Now, he is life-sized, in all his purple glory. I got some photos and stopped in the gift shop, where I bought a Figment t-shirt and water globe. My foyer is decorated with Stitch paraphenalia on one shelf and Figment knick-knacks on the other, so I'm always looking for new additions.
It had been a busy day at the park...Segway riding, a triple play on Soarin', good food, character photos, and of course shopping. Now it was time to head some and get some work done before the Front Porch picnic.
The picnic was the brainchild of another resident; he, along with many others, is a regular poster in the Front Porch, which is the Celebration community intranet. There are several sections that can be accessed by the general public, but the forums are password protected and available to residents only. Many people regularly post messages, but most have never met face to face. The picnic was meant to be a way to meet fellow Front Porch regulars.
I joined in to assist the planners, and we set up a gala affair for Saturday, July 9. But now the effects of Hurricane Dennis were threatening to scare off the attendees and to turn the picnic into a washout.
Since there had been no rain other than the morning shower, we decided to go ahead with our plans. We had reserved the North Village Pavillion, so that would offer some shelter from all but the nastiest of downpours. The event was slated to begin at 5 p.m., but my husband and I headed over early since we were helping out. I'd already joined the other planners to shop for necessities a few days ago. We'd loaded up on hot dogs, hamburgers, soda, chips, plates, and utensils...all the necessities for the perfect picnic. The attendees had been instructed to bring pot luck dishes, so we knew we'd be well set for salads and dessert.
But as luck would have it, as 5 p.m. approached, the sky grew darker and more threatening. People had started to trickle in, but suddenly the heavens opened and a vicious monsoon poured down. We worried that potential attendees would think that the picnic had been cancelled...and of course, no one had access to a computer to let them know that it was still a go. We shoved the tables and chairs into the middle of the pavillion, where they were protected from the rain.
Just as I expected he would, my husband took charge of the grill. He pretends he doesn't like to do it, but I know that he's only happy when he's got a spatula and tongs in his hands and he's charring dead cow over a propane blaze. Even though the initial crowd was sparse, a wonderful variety of side dishes was taking shape. Baked beans, ambrosia salad, potato salad, cole slaw, cookies, carrot cake...mmmm! Soon, the brave little band was grabbing plates and digging in.
Thankfully, the rain didn't last too long; during the reprieve, more people started to arrive. Initially, we had figured on about 60 people based on the RSVPs. By the end, we managed to break 30; not bad, considering the miserable weather. Even though the grass was wet, the kids all played within the pavillion while the adults milled around, chatting. Everyone managed to eat and drink their fill and to mix with their fellow Front Porch posters. I'm hoping that this was just the first incidence of what will become an annual event.
We had figured the picnic would run for about two hours, but we were still going at 7:30 p.m. If it hadn't been so windy and rainy, the bugs would probably have driven us out, but the weather was keeping them at bay. Mother Nature still had one last surprise for us: she battered us with a last downpour that made the previous one look like a light misting. The wind whipped water into the pavillion, sending us all scambling. We realized that it was time to pack up and end our little party.
It would have been nice to have 60 people, but given the circumstances, I was impressed that even half had braved the weather. I guess that after you've lived through a direct hurricane hit (or two or three), waves of rain from an outer band are nothing. All in all, I thought it was quite successful and definitely a lot of fun.
Below are some group shots from the picnic: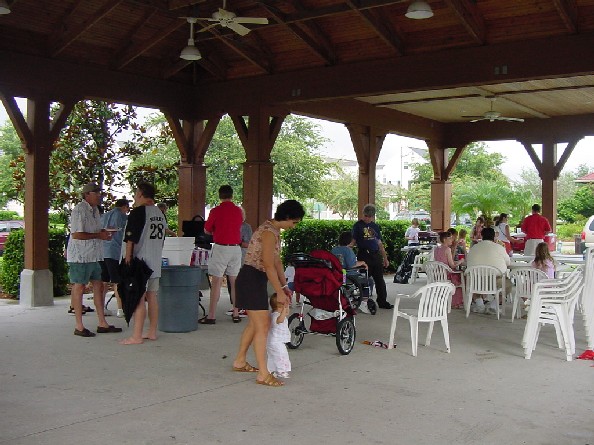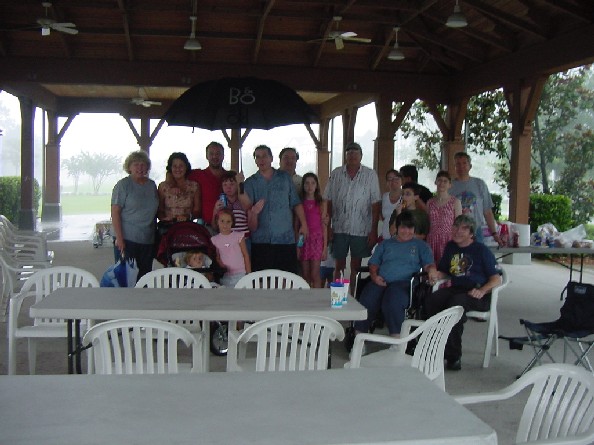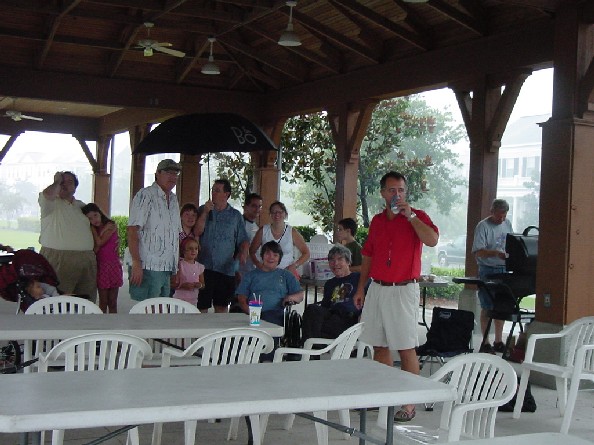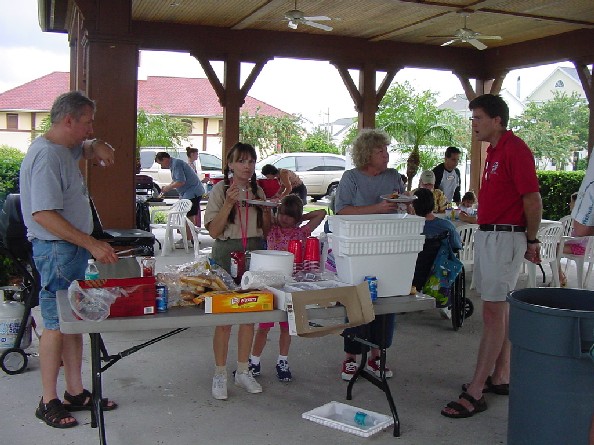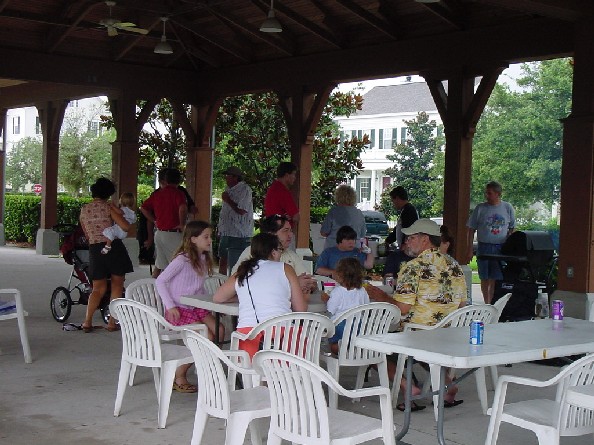 Learn more about Celebration on my website:
www.celebrationinfo.com